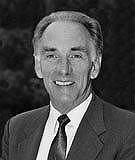 Arthur Patrick is a third-generation Seventh-day Adventist whose maternal grandparents and widowed paternal grandmother were deeply influenced by Ellen White during her nine years in Australia. He is a graduate of five institutions: Avondale College (BA in Theology, 1957), the Seventh-day Adventist Theological Seminary (MA and MDiv, 1972), Christian Theological Seminary (DMin, 1973), University of New England (MLitt, 1984), and University of Newcastle (PhD, 1992). His service for the church has embraced pastoral ministry and evangelism in New Zealand, Illinois, and Australia, as well as Religion teaching and academic administration at Avondale College. From 1976-1983 he was director of the Ellen G. White/SDA Research Center for the South Pacific Division; from 1992-96 he was senior chaplain at Sydney Adventist Hospital; and for the next two academic years Patrick was a visiting associate professor (Church History and Pastoral Ministry) at La Sierra University, Riverside, California.
Since his official retirement (1998), Patrick has served variously as chair of the Professional Standards Committee for the South Pacific Division of the Seventh-day Adventist Church; as chair of Women in Ministry, Incorporated, a lay initiative offering financial support as the church incorporates women into ministerial roles; as an adjunct lecturer and Research Fellow, Avondale College.
During recent years he has presented major papers on Adventist Studies and the life and writings of Ellen White, such as "Learning from Ellen White's Perception and Use of Scripture: Toward an Adventist Hermeneutic for the Twenty-first Century," delivered at the South Pacific Division (SPD) Theological Conference, February 5-9, 2003. At the SPD Ellen White Summit (2004) his paper was entitled "Ellen White in the South Pacific: Retrospect and Prospect."
In retirement, Patrick also authored the centennial history of Sydney Adventist Hospital, entitled The San: A Century of Christian Caring, 1903-2003 (Warburton: Signs Publishing Company, 2003). He presents papers relating to Adventist history and Ellen White at events in the United States and Australia and writes frequently for a range of magazines and journals (note, for instance, the five-part series in SIGNS, the Australian and United States editions, 2007, featuring selected leaders of the Protestant Reformation).
---
You may contact Arthur Patrick with your comments.
---