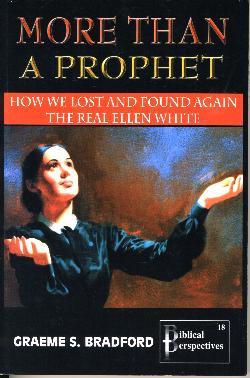 ABOUT THE BOOK
More than a Prophet was born out of the raging controversy over the credibility of Ellen White as an inspired writer. Books, videos, and thousands of websites are attempting to destroy the credibility of the gift of prophecy manifested in the ministry and writings of Ellen White. Surprisingly, most of the material attacking Ellen White, has been produced by former Adventists, some of whom were church pastors. *
To respond to the many attacks against Ellen White, Prof. Graeme Bradford spent twenty years of his life examining and digesting the writing of Ellen White in the light of the manifestation of the gift of prophecy in biblical prophets. By examining the human side of Bible prophets as revealed in scripture, Bradford shows that the problems they encountered, were not much different from the criticism brought against Ellen White.
This book defends the true nature of Ellen White's ministry, by showing how her ministry was perceived by herself, her son "Willie," and church leaders who worked closely with her. These leaders, including the General Conference President A. G. Daniells, expressed their fears at the 1919 Bible Conference, that the Church was heading in a wrong direction in its understanding and use of her ministry. Unfortunately, their worst fears were realized as cultural pressures influenced the Church to promote an unrealistic understanding of her ministry. Fortunately, today Adventism has returned a full circle by coming back to a more biblical understanding of her gift. This intriguing story is revealed in this book.
This book has been long overdue and will do much to restore confidence in the validity of the gift of prophecy manifested in the writing, preaching, and teachings of Ellen White—a woman who has left such a rich legacy not only for the Adventist Church but for the world at large.